Can Your New Haven CT Home Require Water Damage Restoration From The Weather?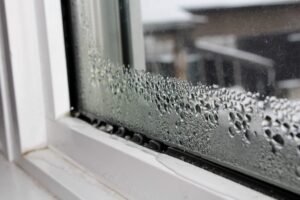 May is the rainiest month, but Connecticut gets some kind of precipitation about 120 days per year. Coastal storms or "northeasters" generate very strong winds, heavy rain and produce the greatest snowstorms in the winter. While they are the most serious weather hazard here, weather patterns are shifting. Infrequent tornadoes and hurricanes can also cause serious wind and water damage to New Haven homes.   
Problems With The Roof  
Any seasonal storm  can tear up your roof. Hail, high winds, driving rain, broken branches and falling debris can damage shingles (or rip them off your roof.) Heavy rains will pool in low spots, adding to existing damage.
Once the roof has been compromised, water will seep into the attic space, down the interior walls, or through the ceiling. And the stain you see inside the home may be difficult to correlate with the original location of the damage.  Atlantic Restoration technicians are experts at finding, and restoring the water damage. 
Window Leaks and Damaged Doors 
Standing water on your porch can seep under the doors, causing them to leak (and eventually rot.) Strong winds can drive water under the door or through any uninsulated gaps, letting water pool in the floor inside the door. The frames, thresholds and trim are very vulnerable to water damage. 
High winds can also shatter unsecured windows. Debris from the yard can hit windows, sliding glass doors, and skylights. After a harsh storm, check all of your windows for  broken panes and dented frames. Get our water damage restoration team to your home ASAP to prevent additional damage to your window frames, walls, and floors.  
Hail is formed in the clouds when frozen precipitation builds up to hailstones – from the size of rice grains to marbles, to tennis balls. You'll hear hail hitting the windows and you'll see ice pellets on the ground, right before it shatters the glass panes.  Depending on the size, it can also break, dent, and tear screens and flashing above the window frame.
Interior Water Damage Restoration
If you have a hole in your roof, the resulting water damage will be easy to spot. But storms can cause problems in areas within your home over time. For example, look for moisture buildup or fog between glass panes. Check the walls and ceilings for water stains and yellow or brown discoloration. See if there are any peeling or cracking wallpaper or paint on exterior walls. 
Emergency Board Up & Roof Tarping
If you have suffered a severe storm or major fire, your home is at high risk of additional damage from the elements. Our water damage restoration team offers premium emergency board up & roof tarping services to help protect your property until cleanup is complete and permanent repairs can be made. We can board up any windows and gaping holes in your roof to prevent damaged from forecasted rains.
In the longer term, you need to  complete your part of your homeowners insurance coverage process. After a natural disaster, one of the first steps to take is to call your insurance company. In return, they require you to protect any undamaged elements of your home. Board up and roof tarping ensure the best coverage for your claim because it helps prevent further damage.
This is imperative in a situation where you move out of the home during repairs. Board up service secures your property from vandals, thieves, vermin and pests.
Humidity Can Lead To Mold 
Coastal Connecticut has a humid continental climate in general. It doesn't take severe weather to introduce enough moisture into your home to cause a problem. Since homes are so well insulated, the naturally damp air can release moisture on walls, ceilings and furnishings. Add the additional humidity from cooking, showering and cleaning, and it is enough to support mold growth. 
If You Need Water Damage Restoration In New Haven CT
As a family-owned and operated company founded in 2011, our company serves all of Connecticut, Southern Massachusetts & Eastern Rhode Island. In addition to interior plumbing leaks, we specialize in emergency water damage cleanup and restoration. If a storm exposes your home to the elements, call immediately for emergency board up services. Then the qualified team will begin the process to fully restore your home.
At the first sign of water damage, be sure to contact our team. Our professionals will rush to you to remove the water, dry your property, and make any repairs necessary to restore it back to normal.