Cleanup Steps To Deal With Water Damage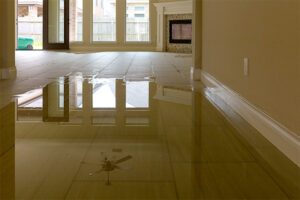 Water damage often catches us when we are unaware and unprepared, leaving us wondering what we are supposed to do next. At Atlantic Restoration, we know how overwhelming water damage cleanup can be, which is why we are here to give you a list of steps you should take when dealing with water damage in your Hartford home.
Water Damage Cleanup In Hartford
Find and stop the source of the water. If water is still flowing or leaking into your home, you need to get it stopped right away to mitigate any further damage and before any cleanup can begin. It is also important to know where your main water line shut off valve is located; turning this off can help stop the flow of water into your home until you can address the source of the water.

Remove and dry the water. This is the most important step in water damage cleanup because the longer the water is present, the worse the damage will be. You have to act fast to remove standing water and begin drying out the area to prevent mold from growing and materials from deteriorating. This step often requires wet/dry vacuums to adequately remove standing water, industrial fans and air movers to increase air flow, and dehumidifiers to remove excess moisture from the air and thoroughly dry out all the water.

Repair or replace damaged materials and belongings. Depending on the extent of the water damage, porous materials like carpets and drywall may have to be removed and replaced. Wood floors, trim, and window/door casings may be salvageable if thorough drying was achieved before any warping or cupping resulted from the water damage. Other wood pieces like furniture may need to be sanded and re-finished to adequately repair them. Removing damaged materials from the area needs to be complete before the next step can begin.
Cleaning and sanitizing. Water damage often leaves mud, muck and grime behind, and, depending on the source of the water, could even contain harmful contaminants and bio hazardous chemicals. You want to be sure that all surfaces are properly cleaned and the areas has been thoroughly sanitized to prevent any further microbial growth and ensure all harmful contaminants, dirt, and other impurities are removed from the area. Be sure to use industry-approved cleaning agents, and ones that will not cause further damage to surfaces.
Final rebuild, repair, and restoration. Once all the above steps have been completed, it is time to put your home back together. If areas of drywall had to be removed, new pieces will be reinstalled, and damaged flooring will be replaced. This is the step where all the final touches are made to return your home to its pre-loss condition. Depending on availability of materials and workers to install them, this step could end up taking some time. The best bet to get the entire water damage cleanup process done quickly and correctly is to call in the professionals at Atlantic Restoration. Our team of trained and experienced water damage cleanup professionals are standing by to take your call so we can respond quickly and get the water stopped. We have all the equipment and tools necessary to remove water and dry the area efficiently and thoroughly, and we even have the ability to make any necessary repairs to your home. 
When your home suffers from water damage and needs cleaned up, save yourself the stress and call Atlantis Restoration.